Relax Bath & Shower Concentrate
Relax, Smooth and Cleanse
With Essential Oils
Use
Use in the evening to relax sore muscles after a hard day
200 ml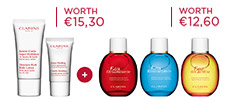 UNTIL 28th OF APRIL
Your Easter Treat
Receive from €40 of purchase your two beauty essentials
Choose your favourite treatment fragrance on all orders over €60.
Clarins' concentrated cleansing treatment activates with the heat of a warm bath or shower—releasing the soothing, aromatic virtues of Basil, Camomile and Petit Grain. Relaxes tired muscles after a stressful day with a calming blend of St. John's Wort, Linden and Valerian extracts. The lightweight lather is gentle enough for the most sensitive skin. Follow with Relax Body Treatment Oil for a complete at-home spa treat.
For use in the bath, pour a small amount of bath foam into the bathtub and run the water (maximum temperature 37°). Massage the lather onto the skin as you inhale the aromatic benefits of the steam. In the shower, apply Relax Bath & Shower Concentrate on a sponge.