Tonic Citrus Home Fragrance
Fill your home with refreshing and invigorating citrus notes.
Use
Spray throughout the home.
200 ml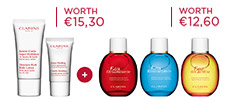 UNTIL 28th OF APRIL
Your Easter Treat
Receive from €40 of purchase your two beauty essentials
Choose your favourite treatment fragrance on all orders over €60.
In one simple step, this light airborne room spray adds an instant zest to your home with the stimulating notes of citrus fruit.
Create an invigorating cheerful home!
Spray throughout your home for a distinctive long-lasting scent, including on fabrics like curtains, cushions and throws.