Eau Ressourçante
Serenity, Freshness & Balance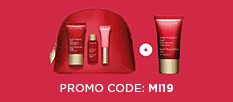 Until 28th February
Beauty at every age
Choose your favourite gift set on all orders over 60€ and choose
your favourite trial size day cream on all orders over €80.
Be serene! Clarins brings your world into beautiful balance with an aromatic caress of soothing, pure plant extracts. Essential oils of Basil, Iris, Cedarwood and Sarsaparilla promote a feeling of total relaxation while locking in a delicate veil of scented moisture. Non-photosensitising formula is safe enough to wear in the sun. Spray on over Eau Ressourçante Bath & Shower Milk and Eau Ressourçante Silky-Smooth Body Cream to create an atmosphere of "aah spa" calm.
You might also like