Eau Ressourçante Bath and Shower Milk
Cleanses, Scents, Rebalances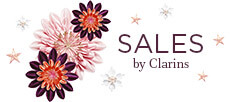 Until the 31st of JANUARY 2019
Start the year in beauty!
-20% on a selection of products to take care of you !
The ultimate shower or bath treat! Clarins' relaxing cleansing milk—with comforting Basil, Iris, Cedarwood and Sarsaparilla—envelops your body in a rich, creamy foam that moisturises while rinsing-away impurities. Leaving your skin soft, smooth and delicately-scented with the refreshing essence of Eau Ressourçante fragrance. Gentle enough for sensitive skin. Follow with Eau Ressourçante Silky-Smooth Body Cream to create an oasis of calm all day long.
Cleans
Relaxes and unwinds
Perfumes
Use in the bath or shower. Apply directly to wet skin.