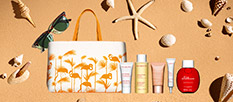 UNTIL 22 JULY
Your Holidays Essentials
Receive from €80 of purchase, your bag and your 5 beauty
essentials to follow you everywhere all summer long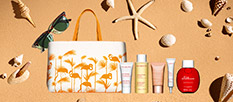 UNTIL 22 JULY
Your Holidays Essentials
Receive from €80 of purchase, your bag and your 5 beauty
essentials to follow you everywhere all summer long
Combining aromatherapy (fragrance) and phytotherapy (the treatment power of plants), Clarins' iconic eau de toilette is now available in a beautifully decorated limited edition collector bottle.
A blend of aromatic essential oils of citrus, patchouli, rosemary, and white thyme refresh and revitalise the senses, while ginseng and aloe vera provide energising and hydrating benefits to the skin.
An ode to nature, for a great fragrance and a great feeling which is so Clarins!
Recently viewed