Extra-Firming Neck Anti-Wrinkle Rejuvenating Cream
Anti-wrinkle, firming and lifting neck firming cream for a younger, smoother and more toned neck.
Use
Morning and/or evening, with firm pressing movements from under the ear down to the bust
50 ml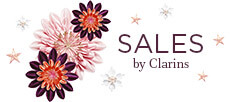 Until the 31st of JANUARY 2019
Start the year in beauty!
-20% on a selection of products to take care of you !
A non-oily, lightweight neck firming cream containing powerful green seaweed extracts and sunflower auxins, combined with Clarins patented Extra-Firming Complex to soften, smooth and firm the neck and décolleté.
Firms, tightens, strengthens and smoothes the skin.
Restores a youthful neck
How to apply your Extra-Firming Neck cream