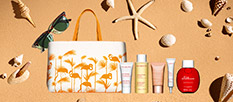 UNTIL 22 JULY
Your Holidays Essentials
Receive from €80 of purchase, your bag and your 5 beauty
essentials to follow you everywhere all summer long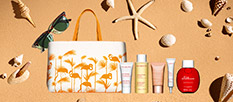 UNTIL 22 JULY
Your Holidays Essentials
Receive from €80 of purchase, your bag and your 5 beauty
essentials to follow you everywhere all summer long
Product details

Christmas by Clarins
This Christmas, Clarins invites you to discover Festive Blossoms: a colorful, festive and flower-filled world that celebrates the beauty of women and of nature.
May your Christmas season bloom.
Eau des Jardins Collection contains:
- Eau des Jardins Spray 100ml
- Eau des Jardins Delicious Body Cream 100ml
- Exfoliating Body Scrub 30ml All presented in a Festive Blossoms beauty pouch.
Recently viewed