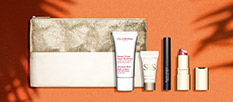 UNTIL 23RD AUGUST
Late Summer Party Nights
From €70, receive your pouch and your 4 beauty essentials,for an easy and chic evening look.
Shade
-02 soft peach
€34.00
Product details

Ingredients
A silky, lightweight powder blush containing the perfect combination of mineral and plant extracts. Adds colour and luminosity to cheeks for an instant, healthy-looking glow. The stunning mosaic palette contains different shades and finishes, enabling you to illuminate your complexion and enhance its natural radiance and beauty.
Instant rosy cheeks
Glowing complexion
Natural looking result
Recently viewed