Instant Light Brush-On Perfector
A blush brush that brightens dark areas, reduces signs of fatigue
Use
Use to brighten up the complexion in the morning and at any time of day.
2 ml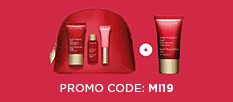 Until 28th February
Beauty at every age
Choose your favourite gift set on all orders over 60€ and choose
your favourite trial size day cream on all orders over €80.
In one quick stroke, this brush-on perfector helps conceal imperfections and disguise shadowy areas as it is tapered, firms and smoothes skin. Oat Sugars contained in this blush brush deliver an instant tightening effect to skin upon application, helping to diminish signs of fatigue and imperfections as Clarins Light Optimising Complex illuminates the eye area and smoothes skin.
Brightens dark areas
Diminishes signs of fatigue
Instantly tightens up slackened skin
When applied to the forehead, crow's feet and nasolabial folds, the spectacular smoothing effect can be seen immediately and instantly enhances the skin. Use this perfector to highlight the points on your face that naturally catch the light: the middle of the forehead, bridge of the nose, and tops of cheekbones. Use the brush for fast and precise application.