NEW
Extra-Firming Night Cream - All Skin Types
Reactivate firmness at the source.
Use
Apply at night after removing make-up.
50 ml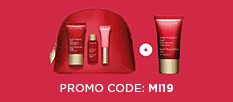 Until 28th February
Beauty at every age
Choose your favourite gift set on all orders over 60€ and choose
your favourite trial size day cream on all orders over €80.
Extra-Firming Night Cream for all skin types - The expert firming wrinkle control night cream that puts the spring back into your skin. Key ingredient, extract of kangaroo flower, helps plump and firm the skin, while Moonstone Hydrated Silica encourages night-time regeneration to maintain the skin's youthful qualities.
Wrinkles visibly reduced
Facial contours appear sculpted
Skin rejuvenated overnight for best effect
More even complexion