€36.00 Save 20%
€45.00
€240.00 / 100 g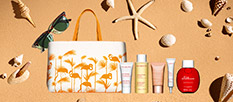 UNTIL 22 JULY
Your Holidays Essentials
Receive from €80 of purchase, your bag and your 5 beauty
essentials to follow you everywhere all summer long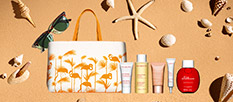 UNTIL 22 JULY
Your Holidays Essentials
Receive from €80 of purchase, your bag and your 5 beauty
essentials to follow you everywhere all summer long
This palette with its angled brush allows you to easily define facial contours. It contains three long-wearing compact powders enriched with organic sweet almond oil, as well as the Clarins anti-pollution complex, to leave skin comfortable and protected: a radiance-boosting powder brightens dark areas, a contouring powder corrects and minimises prominent areas, and a fresh-tinted blush enhances the cheekbones.
Pro-quality brush for easy sculpting.
Caring formula: the skin stays hydrated and protected.
Trio of contouring powders to create stylish and natural looking results.
Recently viewed