Radiance-Plus Golden Glow Booster for Face
The like-magic self-tanner to combine with your usual skin care products for a radiant glow all year round!
Use
Mix 3 drops with your regular cream/lotion.
15 ml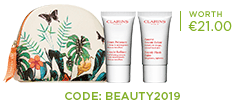 TODAY ONLY
Together let's celebrate Earth Day
From €60 of purchase, receive a kit "Eclat"
with the code: BEAUTY2019 or plant a tree to contribute to the
reforestation of our beautiful planet with the code: TREE2019.
Add customised radiance and a healthy glow to your daily skin care routine with Clarins new Radiance-Plus Golden Glow Booster. Simply mix the self tanner with any Clarins face care product to add an extra self-tanning benefit to all of the hydrating, anti-ageing and firming actions of your usual day and night creams. • A 100% safe ultra-simple step for radiant skin that is incredibly natural-looking. • Can be tailored to your desired level of self-tan by adding 1, 2 or 3 drops. • A subtle self-tanning effect in addition to the benefits of your day and night creams. Dermatologically tested. Non-comedogenic. Suitable for all skin types.
Radiant sun-kissed glow that is incredibly natural-looking and adjustable.
Can be tailored to your desired level of self-tan by adding 1, 2 or 3 drops.
A sublime self-tanning effect