20% off
Summer Bronzing & Blush Compact
A natural sunkissed glow
€37.60 Save 20%
€47.00
€221.18 / 100 g
17 g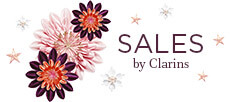 Until the 31st of JANUARY 2019
Start the year in beauty!
-20% on a selection of products to take care of you !
Sunshine in a compact!
A beautiful universal harmony of three bronze and peach shades to complement all skin tones, presented in a luxurious caramel case decorated with pink flamingos.
Mix all three shades and apply for a natural sunkissed glow or alternatively choose your favourite bronze shade to sculpt and contour.
Want to learn more about the new
Summer 2018 Make-Up Collection?
Your routine for a sunkissed summer
with a splash of vibrant colour