NEW
Wonder Fig Scented Candle
A warm inviting atmosphere with the vibrant botanical notes of fig leaves.
Use
Burns for approximately 40 hours.
180 g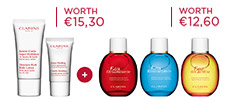 UNTIL 28th OF APRIL
Your Easter Treat
Receive from €40 of purchase your two beauty essentials
Choose your favourite treatment fragrance on all orders over €60.
This fig scented candle with botanical notes creates a warm and vibrant ambiance in your home.
Bring the outdoors inside!
Burns for approximately 40 hours. Clarins' recommendation: let the candle burn for 2 hours on the first use. Then remember to cut the wick to 1/4 inch to keep the scent intact.