Eau Dynamisante Fragranced Gentle Deodorant
Comforts, Refreshes, Protects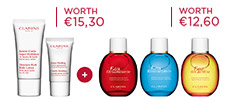 UNTIL 28th OF APRIL
Your Easter Treat
Receive from €40 of purchase your two beauty essentials
Choose your favourite treatment fragrance on all orders over €60.
Clarins' exclusive, plant-infused complex—with soothing Liquorice extract—helps prevent and neutralise body odours without interfering with the natural perspiration process. Proven, long-lasting action ensures all-day freshness and comfort. The ideal companion to Eau Dynamisante Invigorating Fragrance and Eau Dynamisante Moisturising Body Lotion.
Prevents and neutralises body odour
Softens
Perfumes
Spray on in the morning after showering. Re-apply at any time of the day for maximum freshness. Suitable for all types of skin.