Sun Care Milk-Lotion Spray Moderate Protection UVB/UVA 20
Moderate Protection UVB/UVA 20
Use
Use before any exposure to the sun
150 ml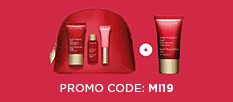 Until 28th February
Beauty at every age
Choose your favourite gift set on all orders over 60€ and choose
your favourite trial size day cream on all orders over €80.
Product details

Ingredients

How to
A great lightweight spray which is fast and super-easy to apply. Specially adapted to fair skin and all skin types exposed to intense sunlight. Lightly fragranced, this milk promotes a golden, natural-looking tan while providing deep-down cellular protection. It's also water and perspiration resistant, helps protect against the drying effects of salt, and nourishes, softens and revitalises the skin.
Protects the skin from UV damage
For a more radiant and even tan, exfoliate the body a few days before your first exposure to the sun. Use sun protection products suited to your skin type. Use a higher SPF for the first few days of exposure. Re-apply at least every two hours and after bathing. To nurture the skin and ensure your tan lasts longer, apply Clarins After Sun Care in the evening.