Instant Concealer
Fatigue-fighting, smoothing and long-wearing concealer – a hydrating corrector that serves as perfection makeup for toned and blemished skin. Product details
15

Reviews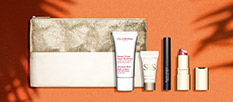 UNTIL 23RD AUGUST
Late Summer Party Nights
From €70, receive your pouch and your 4 beauty essentials,for an easy and chic evening look.
Product details

Ingredients

How to
Want refreshed, radiant eyes all day? Have you thought about using a liquid concealer? Instant Concealer provides customised correction for all types of dark circles, this concealer answers a major cosmetics issue. It is tinted to mask the colour of dark circles while restoring the skin's natural tone. Its fluid texture blends flawlessly into the skin and smoothes the eye contour area, leaving a velvet feel and hydrating the skin, while soothing potential redness.
Refreshes, brightens and smooths the eyes
Fades dark circles
Recently viewed