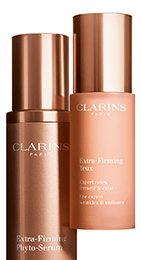 NEW
The Extra-Firming duo
Expert firming anti-wrinkle care.
The Extra-Firming range returns in 2019 with Extra-Firming Eyes and Extra-Firming Tightening Lift Botanical Serum, a dynamic duo that gives an instant lifting effect.

BACK TO BASICS
What is Extra-Firming?
It's a skincare range that visibly improves the effects of reduced firmness, including small wrinkles in the corners of the eyes and a less defined facial contour.
How does it work?
The following ingredients work to visibly improve the skin's elasticity and firmness:
Organic Mitracarpus
Targets elasticity and collagen production.


Kangaroo Flower
Targets nests of young cells to stimulate them and compensate for their dwindling numbers.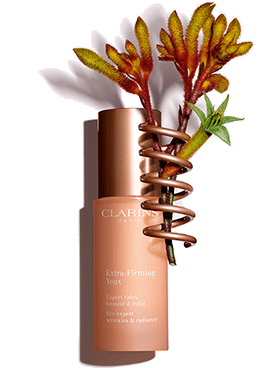 Kangaroo flower
Extra-Firming Eyes
Expert wrinkle, firmness and radiance care
This 2-in-1 intensive eye contour care combines the smoothing effect of a serum with the comfort of a balm. It targets the main concerns of women aged 40+ identified by Clarins Research*: crow's feet, puffiness and age-related dark circles.
*Clarins typological study - 32 women
€49.00
How does it work?
In addition to organic mitracarpus and kangaroo paw extracts, which help to promote the regeneration and firmness of the skin, Extra-Firming Eyes is enriched with active ingredients selected for their effectiveness on the eye contour area:
Albizia
Helps to reduce the appearance of puffiness and age-related dark circles.


Horse chestnut
Recognised draining action, helps to further reduce the appearance of puffiness and dark circles.

Slide to discover the Extra-Firming effects
-12%(1)

reduction in wrinkles

-16%(1)

reduction in puffiness
(1) Clinical tests, 4 weeks *33 women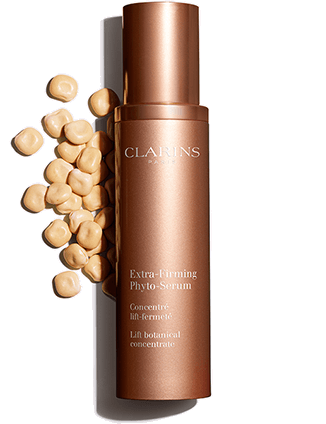 White lupin seeds
Extra-Firming Botanical Serum
Clarins' most advanced double lifting effect
This new Extra-Firming serum gives visibly more contoured features, visibly firmer skin, and a smoother skin texture.
€92.00
No. 1: Instant lifting effect
Blue agave and Quinoa
Clarins' new tightening sugars! The features instantly appear smoother and fine lines are reduced.
No. 2: A lifting effect day after day
White lupin
Retightens firmness connections for visibly younger skin.


Slide to discover the Extra-Firming effects
Lifting effect clinically demonstrated after 1 application(1)

(1) Clinical test, 1 application, 35 women

-14%(2)

Wrinkle volume in 1 application

(2) Clinical test, measurement of the volume of nasolabial folds after application, 31 women

85%(3)

Of women find their skin visibly firmer after 28 days

(3) Consumer test, 111 women, 28 days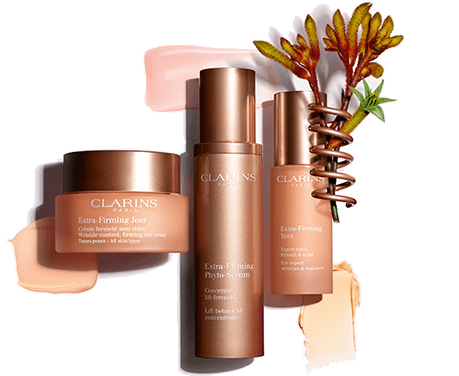 Kangaroo flower
Firming routine
My skin is more...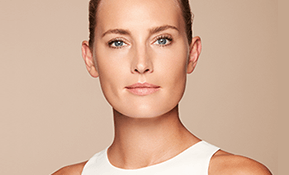 SEE OUR FACE WORKOUT TIPS