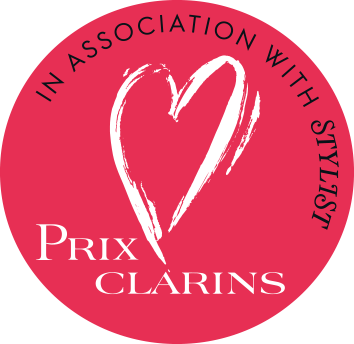 About the award
Prix Clarins in association with Stylist seeks to recognise one inspirational woman who is improving the lives of the next generation and beyond through an innovative charity or initiative she has founded.
The winner of this prestigious award will receive £30,000 towards her project, plus bespoke mentoring sessions from Clarins and Stylist to equip her for the next phase of development. The prize, along with a commemorative trophy, will be awarded at an exclusive ceremony in central London, and accompanied by a feature on the winner in Stylist magazine.
Apply For Prix Clarins

Our objective is as clear and simple today as it was when we created this award over 20 years ago in France and that is to honour women who are making a difference to children, teenagers and young adults in serious distress. To date, this award has allowed us to help these exceptional women change the lives of over 35,000 children in France and we are proud to have been able to help them develop and progress their life-changing work. We want to inspire many more women around the world to continue this work today to help change the future of tomorrow."
Christian and Olivier Courtin-Clarins
What we're looking for
A woman who through her own charitable endeavour, is improving life for the younger generation; whether helping them to overcome challenges, navigate obstacles, increase their opportunities or supporting them in distressing circumstances.
The project should be dedicated to finding long term solutions for those they are working with.
Applicants must be female, over 18 years old and a British citizen, although their work can be conducted anywhere in the world.
Please complete the following in full. All applications must reach us by Wednesday 28th March 2018

About Last Year's Winners
Our Prix Clarins 2017 went to The Girls' Network, an award-winning charity working with young girls from the least advantaged communities across England. Girls are matched one-to-one with a professional woman, who will be her personal mentor for the year. The mentoring focuses on building confidence, developing skills for work and life, and opening up networks and opportunities that the girls would otherwise not have access to. They provide support to enable girls to take control of, and be ambitious for, their futures. Girls from low-income communities face a double-disadvantage. One of their biggest barriers to success is access to networks and support to develop the skills that will allow them to succeed. Our inspirational winners Charly Young and Becca Dean were school teachers in North West London when they witnessed the multiple barriers facing girls in their classrooms including a lack of self confidence or belief without any professional female mentors in their networks to be able to change this and succeed. They established a one-to-one mentoring scheme for 30 girls in 2013, based on research showing that conversations and personal relationships could have a big impact on challenging stereotypes and expectations.
They believed that the girls needed a greater access to opportunities, but also the confidence to seize those opportunities and the skills to thrive in them.
The Girls' Network mentoring was soon in high demand, and now operates across London and the South Coast, working with more than 1,000 girls each year. 100% of girls on the programme last year reported feeling more confident in themselves and in how to get to where they want to go. Teachers saw 89% of girls demonstrate more resilience and self-motivation at the end of the year.
Our £30,000 has enabled Charly and Becca to take their much needed scheme to every region in the country by 2020 and close mentoring from Clarins and Stylist will help The Girls' Network to refine and further develop.
The Stylist Feature
> Download original article