CLARINS Beauty Market
Welcome to your beauty market!
Just like a market gardener helping you choose the best products, we are here to guide you according to your beauty concerns. For anti-ageing, hydration, a variety of skin care or make-up products, let Clarins be your guide and shop with your eyes closed.
FACE
Give your skin the best. Let Clarins be your guide and choose the products adapted to your needs.
HYDRATION
Leaf of life
A fascinating example of botanical engineering.
Observing Nature and taking inspiration from it is one of the secrets of Clarins Research. A Madagascan plant has captured the attention of Clarins Laboratories: the leaf of life
and its fleshy leaves, which remain full of water despite the hydric stress conditions they face. Nicknamed "leaf of life" by Madagascans, the plant is as essential to life as water is for women's beauty. By helping the skin to renew its various tissues, the organic leaf of life extract promotes perfect hydration.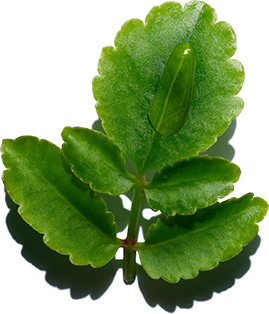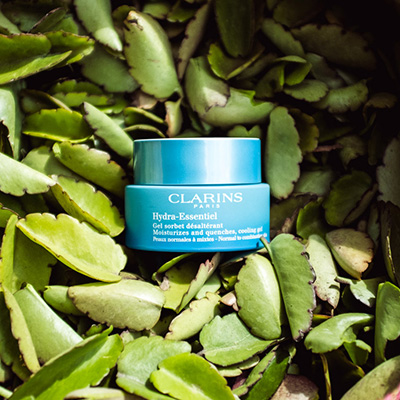 In Madagascar, Clarins has established an environmentally friendly partnership with two villages to harvest and then
dry leaf of life using biological methods, without pesticides
or chemical substances.
Detox & Nutrition
Alpine Rose
An ingredient that detoxifies the skin
Alpine rose is a bushy shrub found in areas located between 1600 and 2400m of altitude. A hardy plant, it withstands the alpine winter with a thick blanket of snow protecting it from the extreme cold.
In cosmetics, Alpine rose extract is used to help protect the skin from oxidative stress.
Alpine rose has a unique ability to protect the skin from oxidative stress, while boosting lysosome activity to detoxify the skin.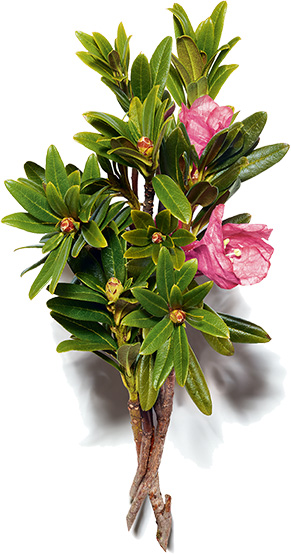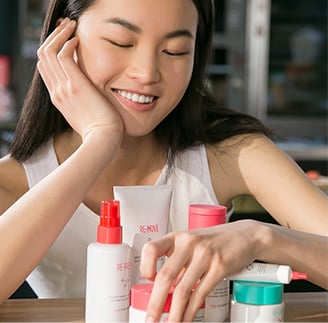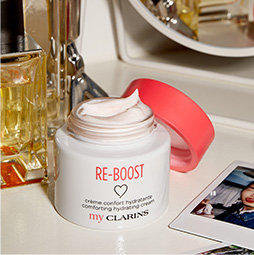 My Clarins section: Dedicated to 18 to 29-year-olds, the My Clarins line reveals its energising and detoxifying powers!
A concentration of health and wellness provides your skin with everything it needs!
anti-ageing
Turmeric
A superpower spice
Well-known for its golden yellow powder that adds vibrant colour to curry dishes around the world, turmeric is a plant native to Southeast Asia
and is cultivated in almost every part of Asia.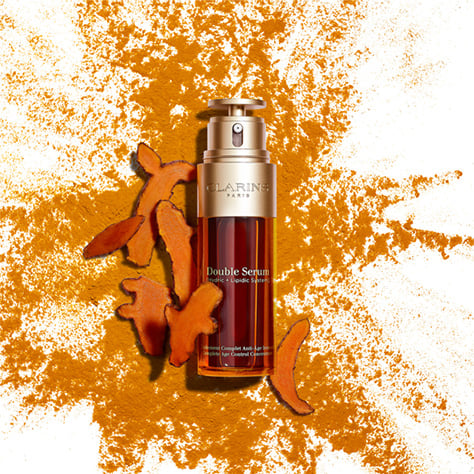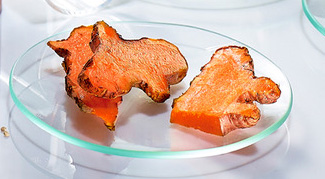 After going through drying and grinding processes, its thick underground stem – the rhizome – produces this multi-use, age-old powder. A sacred spice to Hindus, who use it in their religious ceremonies, turmeric has a bitter, slightly spicy, and peppery taste. Reputed for its use as a dye for clothing and food, turmeric also possesses therapeutic benefits. It was prescribed in traditional Indian and Chinese medicine to treat digestive and inflammatory disorders, and studies carried out in recent decades have revealed that it contains powerful antioxidants.
In cosmetics, turmeric extract is used to help protect the skin from oxidative stress. It also helps to preserve cellular communication.
My Market: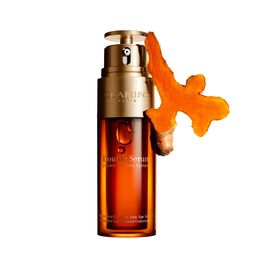 Double Serum
BODY
The best body care products at your fingertips.
Comfort
Shea
The tree with powerful nourishing benefits
The shea tree is a magical tree, especially for women, and is known as the "King of the Savannah" in Africa. It is a sacred tree, which should never be cut down or damaged. Women are considered its guardians and collect the large nuts that yield shea butter and oil after processing.
Traditionally, shea butter and shea oil, which are rich in fatty acids, help nourish and protect the skin.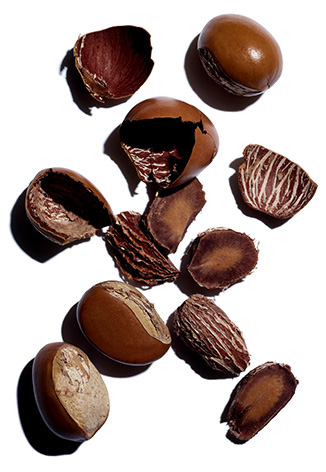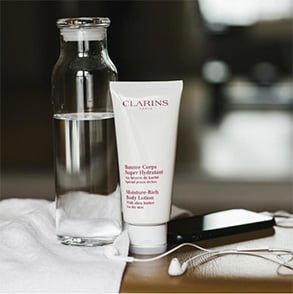 Firming
Quince leaf
An unparalleled trainer
A small tree native to the Caucasus, quince has been cultivated all over the Mediterranean region. Quince leaves are used in the Steppe regions to treat coughs, cardiovascular diseases and skin conditions.
In cosmetics, quince extract helps tighten the skin's structure to restore its tone and elasticity. Quince leaf extract helps stimulate fat elimination and regulates the overproduction of fibres that cause adipose tissue to become rigid.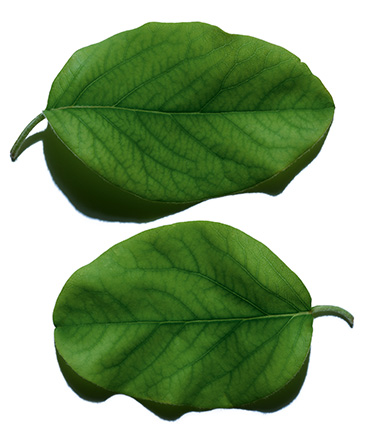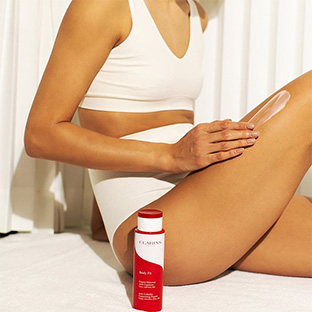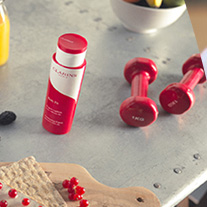 To combat cellulite, the Clarins Laboratories use quince leaf extract like a true personal trainer: it reduces fat storage like Nordic walking, promotes its elimination like running and strengthens skin suppleness like stretching exercises.
My Market:
Body Fit
Maternity
Centella Asiatica
At the heart of our bio-inspiration
Commonly known as "tiger grass",
as these large felines roll themselves in its leaves to treat their wounds, this age-old plant is traditionally used in Asia for its healing and soothing properties. Clarins discovered that these extraordinary repairing properties were particularly useful for targeting stretch marks.
As is the case with every plant extract, Clarins Research did not settle for a simple extract, they went in search of the purified and active molecule, here they discovered a titrated asiaticoside extract from the leaf.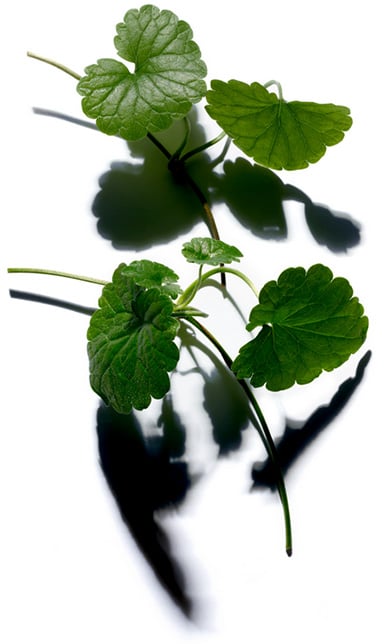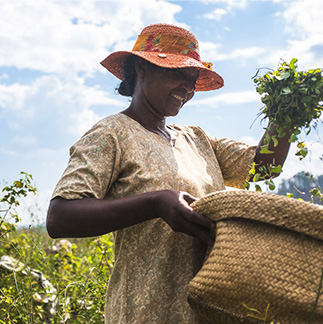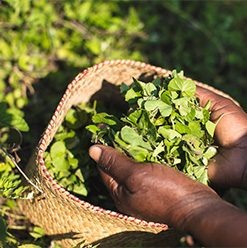 Grown in Madagascar,
centella asiatica is obtained as part of a fair trade programme which Clarins has supported for the past ten years. Among other things, this partnership has made it possible to finance the renovation of schools, nutrition programmes and water supply projects.
My Market: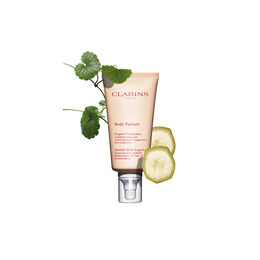 Body Partner Stretch Mark Expert
MAKE-UP
We give you the best of nature to enhance your beauty every day.
COMPLEXION SECTION
Sea lily
Sea lily can be found along the Atlantic coastline from Brittany to Portugal as well as in the Mediterranean, including in Corsica and Crete. With its ironclad strength, its seeds can brave the swells all while keeping their germinating power intact. Its name "pankration" comes from the Greek "pan", which means "all" and "kratos" "force", and refers to the exceptional resistance
of its delicate flower in its arid environment of sand, sun, salt and wind. The sea lilies chosen by the Clarins Laboratories come from controlled cultivation. In cosmetics, organic sea lily slows down the transport of melanin and promotes the reduction of pigmentation. In cosmetics, organic sea lily extract also contributes to the skin's overall hydration.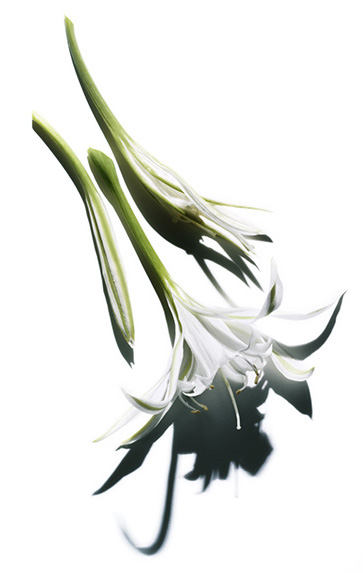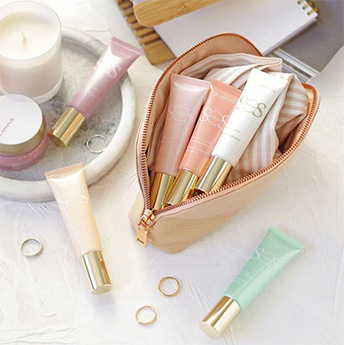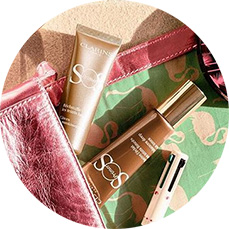 SOS Primer is made with organic sea lily extract
to deliver 24-hour hydration* to the skin. The fine, weightless texture lets skin breathe and is formulated with the Clarins anti-pollution complex to protect the skin from environmental damage.
*Hydration kinetics – 24 hours – 11 women.
My Market: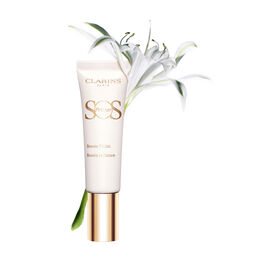 SOS Primer
Lips
Hazelnut oil
The hazel is a small tree that grows in woods and hedgerows, and is very common in European forests. Linked to Celtic tradition, it was believed to have all sorts of magical powers: it symbolised fertility because of its abundant production of fruit (hazelnuts), it helped divine gold and water, and even encouraged romantic love. The fluid fine oil extracted from hazelnuts is edible and used in cooking for its delicate flavour. It is traditionally used for its high fatty acid content, which helps to nourish the skin and protect it against dehydration.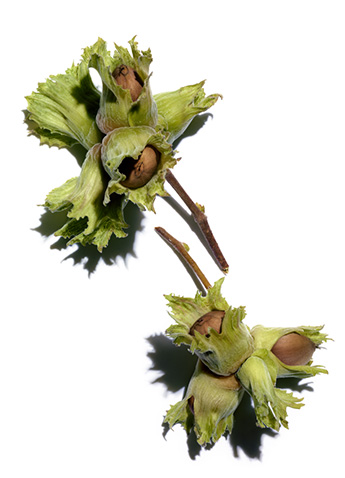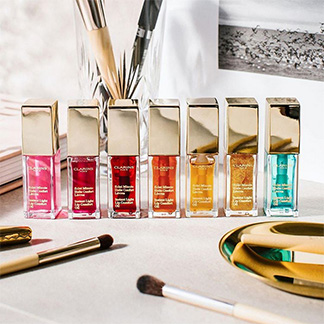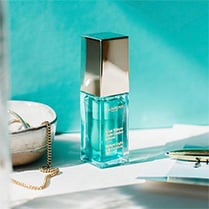 Because the first products designed by Jacques Courtin-Clarins were face and body oils made from 100% plant extracts, Clarins has a unique expertise which has pushed it to create an exclusive oil, a colourful elixir rich in plant-derived active ingredients to nourish and beautify the lips: Lip Comfort Oil, which brings together subtle colours, the shine of a gloss, and the nutrition and comfort of an oil!
Eyes
Cassia flower
Now largely naturalised everywhere
in the world, cassia is a bushy shrub.
Its yellow pom-pom flowers give off a heavy, mimosa scent and produce
an essential oil and absolute that are sought after in the fine fragrance industry.
The Lash Boosting Complex:
The must-have Clarins mascara with
a 2-in-1 treatment and make-up.
All Clarins mascaras are enriched with a unique booster serum for lashes, formulated by Clarins Research to visibly lengthen and strengthen lashes. Our study confirms that application after application, your Clarins mascara leaves your lashes thicker and visibly longer.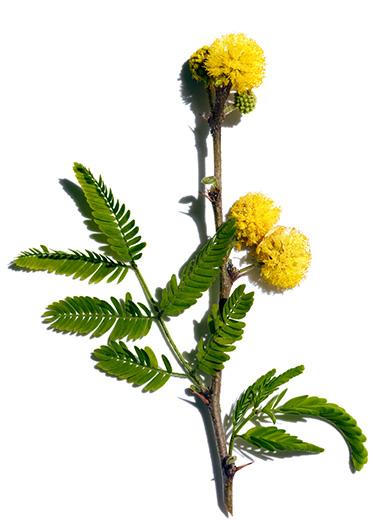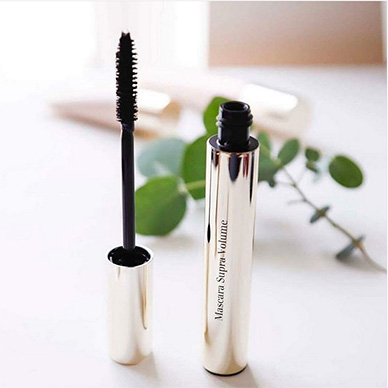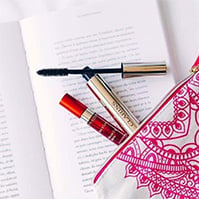 In cosmetics, the wax extracted from cassia flowers is widely esteemed for its protective, filmsogenic and smoothing properties.
My Market: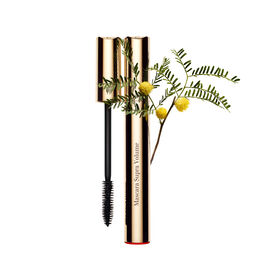 Supra Volume Mascara