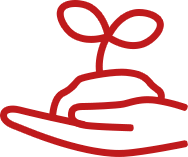 Brand
RESPONSIBLE BEAUTY
Responsible innovation

For Clarins, sustainable development is an opportunity to be a pioneer on pressing issues, initiate new rules and practices, launch new challenges, and invest with conviction and generosity.

Clarins believes in progress and in people to find ingenious solutions that will make the future a desirable and viable place for everyone.

Click here to learn more about responsible innovation.

Our environmental responsibility

Clarins cultivates beauty with plants

From formula to packaging, every ingredient or raw material is selected with respect for nature.

With great concern about the impact of its activities on the environment, Clarins is committed to extracting the benefits of each plant without harming ecosystems and by giving back to nature what it takes.

Click here to learn more about our environmental responsibility.

Our social responsibility

As a corporate citizen with a global outlook, Clarins encourages innovation and is fully committed to medical, humanitarian and environmental projects.

Clarins has three areas of focus for sustainable initiatives: the health and well-being of all, education and support for children, and the preservation of biodiversity.

Each of these is testament to the brand's enduring and dedicated commitment to future generations.

Click here to learn more about our social responsibility

Our economic responsibility

A family business founded in 1954, Clarins made a choice to go against the tide in 2008 by freeing itself from the unpredictable rhythms of the stock market. In line with its spirit of independence and its values, the Courtin-Clarins family holds the reins of a beauty brand with an international influence.

As a global player in cosmetics, the Clarins brand is proud of its expansion, of creating products that have revolutionised the cosmetics industry, and proud to demonstrate that monetary interest is not its only driving force. Clarins is a responsible beauty brand which offers access to its products in-store - in one of its 19,000 points of sale in 130 countries around the world - as well as online, while continuing to design and manufacture its skincare products in France.

Click here to find out more about our economic responsibility
PARTNERSHIPS
I would like to organise a CSR/Charity event in partnership with Clarins

You would like to ask Clarins for help with your event and we thank you for reaching out to us. The Clarins Group is currently very committed to numerous partnerships. We invite you to send your enquiry by post to 4B Lazer Lane, Grand Canal Dock, Dublin 2, D02 PP89, Ireland.

I am looking for prizes for a charity or fundraising event

You would like to ask Clarins for help with your event and we thank you for reaching out to us. The Clarins Group is currently very committed to numerous partnerships. We invite you to send your enquiry by post to 4B Lazer Lane, Grand Canal Dock, Dublin 2, D02 PP89, Ireland.

I'm an influencer; is a partnership possible?

You are requesting a collaboration with Clarins and we thank you for your interest. We invite you to send your partnership proposal directly by email to:

marrita.coyne@clarins.com
RECRUITMENT
I would like to apply for a job or internship

The Clarins Group has a dedicated website which offers job and internship opportunities in France and abroad. You can access this by clicking

HERE

.

On this website, you can create your candidate space, upload your CV and view the available offers.
PROFESSIONAL REQUESTS
I would like to sell your products online

You would like to share the Clarins brand on your website and we thank you for your interest. First, it is mandatory to be a reseller at a physical point of sale where the Clarins brand is sold. If this is the case, we invite you to send your request by email to

shirley.okane@clarins.com

I would like to use your products in my professional activity

You want to use Clarins products in a professional setting and we thank you for thinking of Clarins. However, our distribution agreement on the French market does not allow us to respond favourably to your request. Clarins sells its products exclusively through selective distribution, which includes perfumeries, department store stands and some pharmacies.