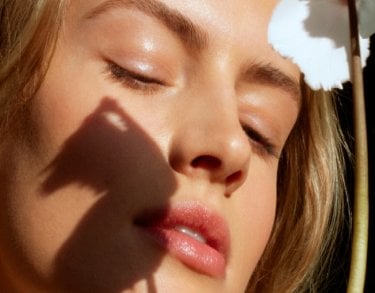 How to achieve the perfect bridal make-up
Adding beauty to your daily life has been our passion for over 60 years. Making sure you look your best on one of the most wonderful days of your life is one of the first vows that we take in our commitment to making you beautiful! If we already help keep your skin radiant and hair healthy on a daily basis, it's only natural that, on your wedding day, we have the honour of taking care of your radiant face, full of unforgettable happiness. SEE MORE We want to give you a make-up set that respects both your skin and your beauty. The big day is approaching... Everything has been planned to perfection for your special day. Your dress is sublime, your hair stunning. You look simply divine. Let Clarins be your guide with expert tips from our make-up advisors. Follow their wedding advice to the letter to get a perfect beauty boost. Commit to following their tips and recommendations, which focus on your complexion, your eyes and your lips. Your skin is being prepped for a stand-out stunning look that lasts from morning to night, radiating with beauty in each and every photo. Here comes the bride! SEE LESS
How to prep your bridal skin before the big day
As a wedding is planned months in advance, your to-do list should include taking meticulous care of your skin before even thinking about your make-up. Begin months before the big day. Certain routines will become daily habits that will last long after the wedding! The secret? Cleansing and moisturising.
1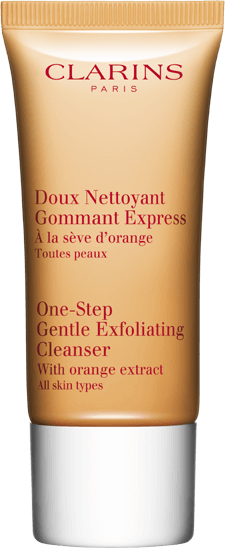 Beautiful skin is clean skin.
Use the One-Step Gentle Exfoliating Cleanser to cleanse and purify your face. It gently rids skin of impurities. A multi-functional and gentle make-up remover that detoxifies and tones in one simple step! Orange syrup refreshes and revitalises. SEE MORE Moringa seed extract purifies and renews the skin while preserving its natural hydration. SEE LESS
2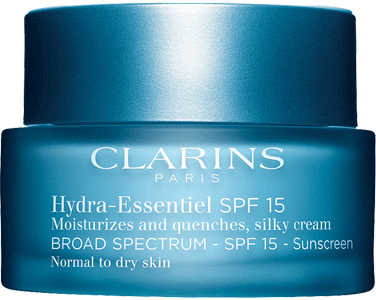 Beautiful skin is well‑moisturised skin.
The Hydra-Essentiel SPF 15 face cream keeps your skin hydrated at all times. A moisturising day cream with UV protection, it helps retain water thanks to its organic Leaf of Life extract-based formula. This powerful natural activator triggers the production of hyaluronic acid, the molecule that retains water in the skin. SEE MORE Your face feels fresh, soft and comforted. Beautyberry will leave you with a radiant complexion. SEE LESS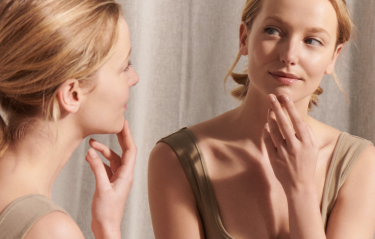 Expert advice
Our beauty experts recommend you to boost your daily skin care routine with the Hydra Essentiel Bi-Phase serum. Energise your eye contour area with the Eye Contour Gel for puffiness and dark cycles, it ensures your skin is perfectly hydrated and feeling fresh. You look beautiful!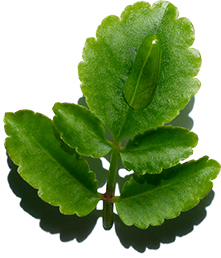 Kalanchoé
How do I choose the right exfoliator?
To make your bridal make-up even more beautiful, eliminate dead skin cells once or twice a week using a targeted exfoliator that is suitable for your skin type. There's something for everyone in our exfoliating product range, whether it be a gel, a mousse or an oil.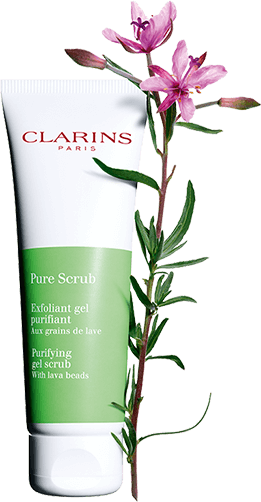 Alpine willow herb
Combination to oily skin
Combination to oily skin types with small blemishes, shine or dilated pores will love the Pure Scrub exfoliating gel. Its lava beads will purify and smooth the skin's surface while unclogging pores. SEE MORE Its organic alpine willow herb extract tightens pores and minimises shine. A clean and matte complexion! SEE LESS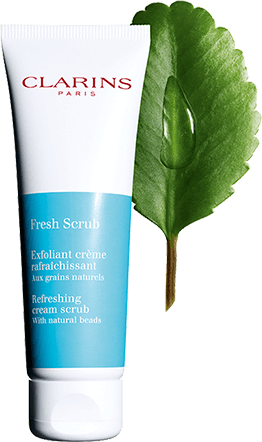 Kalanchoé
Dehydrated skin
Dehydrated skin will be soothed by the refreshing Fresh Scrub cream exfoliator, with natural wood cellulose beads. Its priority is to rid your skin of dead cells and impurities while offering a fresh wave of radiance! SEE MORE Softened and smoothed, your skin is bursting with freshness! SEE LESS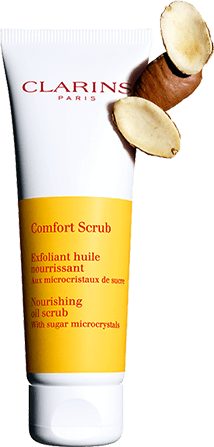 Mango butter
Dry Skin
Dry skin types will be pampered by the Comfort Scrub exfoliating oil. A highly nourishing formula with wild mango butter that exfoliates the face and lips thanks to its sugar microcrystals made from beetroot. SEE MORE Its oil texture becomes silky and creamy when in contact with the water. A sweet sensation of all-over softness. SEE LESS
Which beauty routine should I adopt before the big day?
Just like you, your skin is well prepared! Don't forget the cleansing and exfoliating ceremony the night before the wedding, which you should have already been doing for several weeks. Natural, smooth and radiant, your skin is perfect and is ready to glow for your special day.
The bride's most important rehearsal: make-up.
You can look for make-up inspiration and wedding ideas on Pinterest. Just like trying on your wedding dress or testing out hair styles, you should take the time to trial various make-up looks, and feel free to take photos. Remember it's important to focus on your complexion, highlight your lips, bring out your eyes, make them sparkle, make your smile radiant, finding the perfect balance between natural and glamorous beauty. SEE MORE Personal and harmonious make-up that develops step by step will help you achieve the best look on your wedding day. One of our pre-wedding tips would be a dark circle treatment, to have a rested eye contour area. It's difficult to get a good night's sleep when you're getting married in the morning! SEE LESS

Everlasting Concealer
€24.65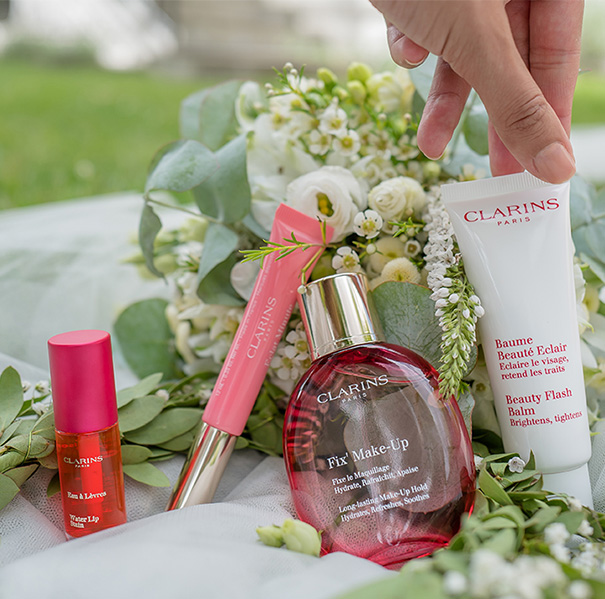 How to achieve a flawless complexion
It's time to find the right foundation, your perfect match. A subtle shade chart will reveal the product best adapted to your complexion. The bride's day will involve plenty of tears of joy and kisses for the guests!
1

To keep your flawless complexion
Apply the Clarins SOS primer, the first step in having make-up that lasts. An essential companion for your wedding day, it prepares your skin and fixes your make-up. Your complexion is instantly radiant.
2

Experience all your emotions
Your complexion will remain matte and radiant all day long with the Everlasting liquid foundation. It perfectly hides dark spots and blemishes from morning to night, without leaving a mask-like effect. Its formula mattifies the skin by combining bamboo powder with the High Fidelity System+ technology.
3
And to finish in style
One of our top secret tips for a long-lasting healthy glow: apply a light touch of coral pink Joli Blush to your cheekbones. A little blush on the cheeks instantly lifts your look and adds a joyful touch of colour. Its airy texture seamlessly adds a light layer of soft powder to the skin. Perfect for the beautiful blushing bride! If you prefer a natural-looking healthy glow on your wedding day, give yourself a sunshine glow with the Compact Bronzing Powder. The perfect make-up, for the perfect wedding!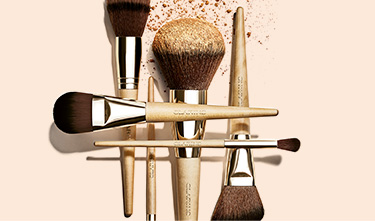 Expert advice
To ensure fast, flawless and natural results, apply your foundation using a foundation brush. You're now ready to enjoy every moment of this unique day.
Some eye make-up advice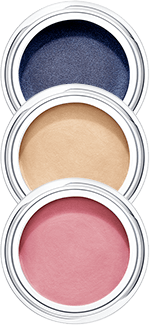 It's going to be a long day for the bride.
In order to have refreshed and sparkling eyes on your wedding day, use a long-lasting eyeshadow in soft and light shades. Forget smoky eye make-up that you would wear for an evening look. SEE MORE Apply the Velvet or Satin Shadow. Your eyes will radiate with a smoothing, sparkling, satin or matte effect, depending on which shade you choose. SEE LESS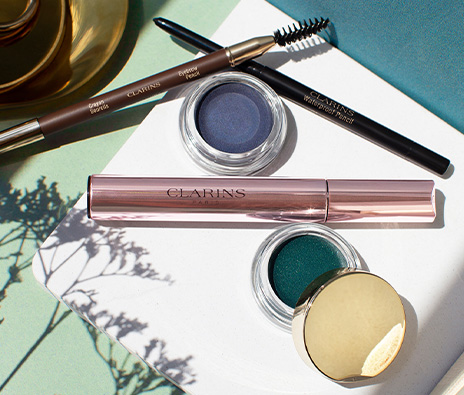 To highlight your eyes
Depending on your desired results and make-up habits, add a touch of Eye Liner. Discover a beautiful colour pallet of eye and eyebrow pencils to shape and tame your eyebrow curve, framing your eyes and giving you perfect brows. The Kohl Eye Pencil can be used as a kohl liner or liquid eye liner. Available in a selection of 7 colours, Clarins kohl eye pencil accentuates and magnifies your eyes with customisable colour intensity. It's up to you!
Waterproof Eye Pencil
€20.00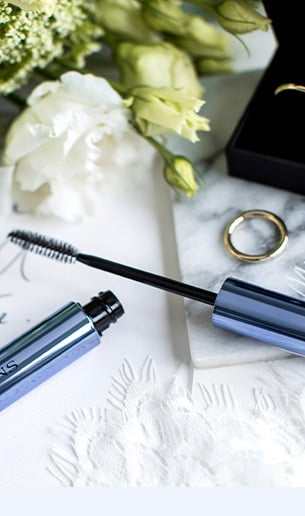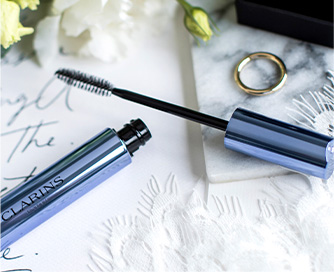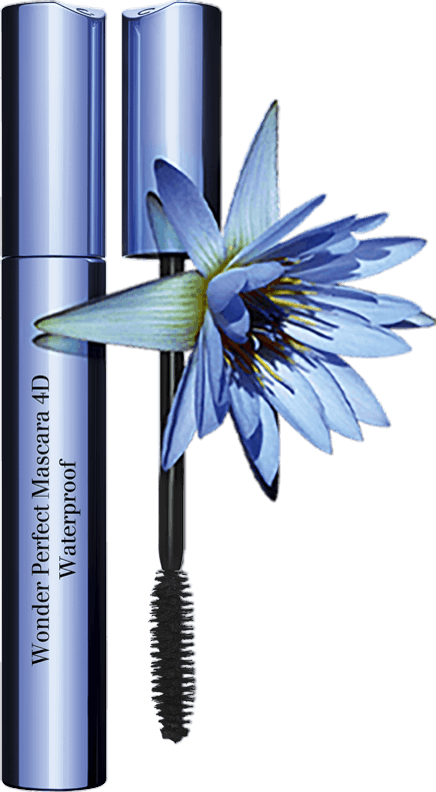 Lotus Bleu
Add the finishing touch to your make-up
Clarins has a range of mascaras available with different sized brushes, which can be thicker to add volume or thinner for longer lashes. Accentuate your eyes with various dark shades that will bring out your eye colour. The Wonder Perfect 4D Waterproof Mascara seems like the perfect companion for your wedding. It adds volume, length and elegance to your lashes. You'll be beautiful in 4 dimensions. SEE MORE Easy to apply, it withstands even the most intense tears of joy! Its super waterproof "Emotion-Resistant" formula with blue lotus wax will let you experience any emotion without any make-up mishaps! You can count on it to never let you down on this important day. SEE LESS
Wonder Perfect Mascara 4D Waterproof
€29.50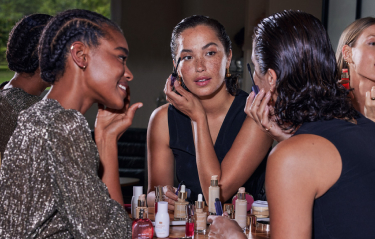 Expert advice
For optimal wear all day and night, here's one of our special wedding tips: apply the Double Fix' mascara, Clarins' first top-coat mascara, which will fix your eyebrows and protect your lashes right through the night...
Which make-up will make my lips beautiful?
Lip Perfector
On this special day, add some natural and subtly sensual colour to your lips. Choose a lipstick or lip balm in pink or light shades to define your lips. Save your intense-coloured lipsticks for another time. Here's another one of our beauty tips: before applying make-up to your lips on your wedding day, add a touch of Instant Light Natural Lip Perfector to plump them and add shimmer. Whether transparent or lightly tinted, it gives the lucky lady smooth and shiny lips that are irresistible. You may kiss the bride!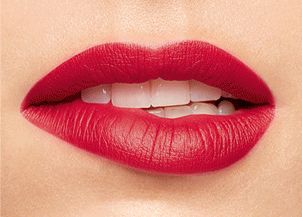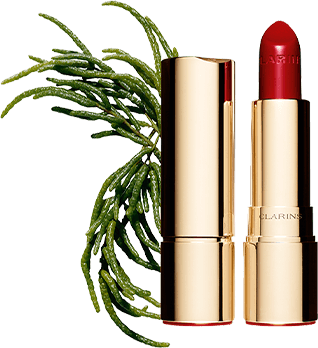 Salicornia
Joli Rouge
Clarins' timeless Joli Rouge lipstick is the bride's perfect partner. Its rich, creamy formula delivers intense colour with a delicately satin finish on the lips. Enriched with organic salicornia extract and mango oil, Joli Rouge moisturises the lips for 6 hours and leaves them soft, supple and comfortable. We love how easy it is to apply. You can use the Lip Pencil to define your lip contour to give a more intense look before applying Joli Rouge.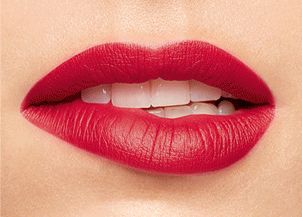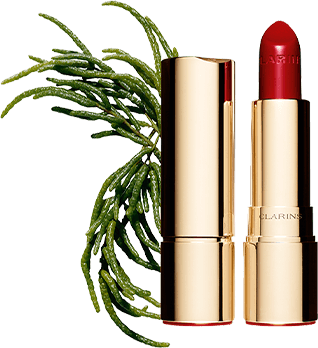 Salicornia
Joli Rouge Velvet
For a perfect velvety finish, the Joli Rouge Velvet has a velvety, light and creamy texture in 20 intense and matte shades, instantly accentuating your lips while taking care of them. A beautiful smile for the most beautiful bride.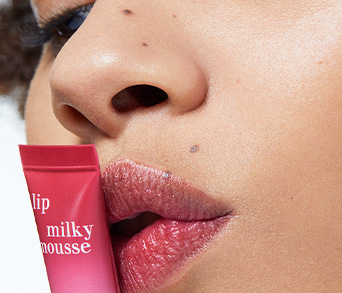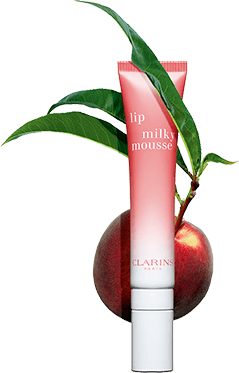 Peach
Lip Milky Mousse
For a peachy, delectable and airy complexion, treat yourself to Lip Milky Mousse, the tinted whipped lip cream. It adds subtle colour to your lips and accentuates them with a velvety-satin finish. Like a sweet stolen kiss!
Trial your wedding look
Would you like to test our Clarins products online? Trial your look now with our virtual tool to prepare you for the big day.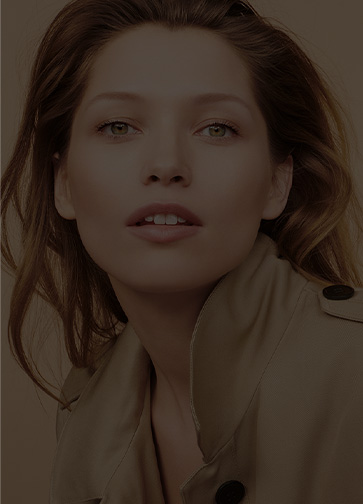 Beauty tips for this special day
A flawless complexion, light and elegant make-up, a radiant face framed by a soft hair style, you're ready for your close-up!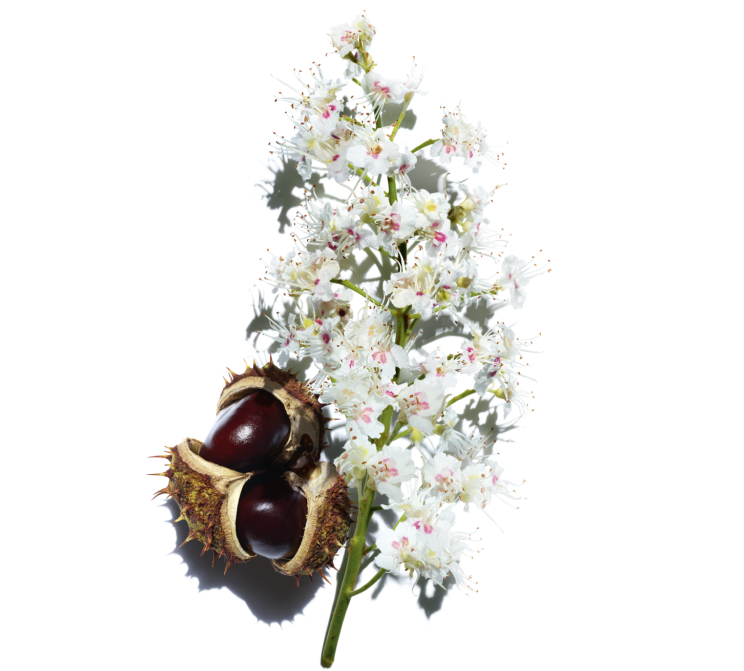 Are you ready for the big day?
At Clarins, we prioritise highlighting your face in the most natural way possible by using products that are effective, long-lasting and waterproof. Not too much eyeshadow, lipstick or bright colours! You've got nothing to hide. No make-up should detract from your smile as it beams with happiness on your wedding day. It's all about giving you a refined beauty boost. SEE MORE The bride will be simply stunning under her veil with her natural make-up. There's no point in trying to stand out, it's your day, you are already the princess in your stunning gown! Smile! Photo ready! SEE LESS