Bare your best!
N°1 European Prestige Body Treatments*
Clarins Research travels the globe in search of the most powerful plant actives—then harnesses their natural energy into targeted body care that delivers visible results.
*Source: NPD BeautyTrends,® selective skincare market, prestigious brands, sales in value, over the cumulative period of January to December 2020, 3 countries in total (France, Italy and the UK).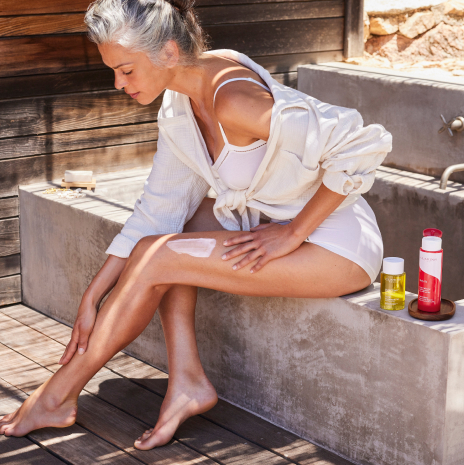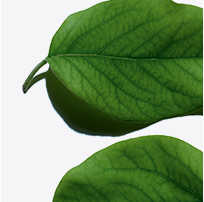 Organic Quince Leaf
Body by Clarins
Keep contouring on track
Love your body. Be good to it each day by consuming healthy foods, exercising several times a week, drinking plenty of water, and going that extra mile—like taking the stairs instead of the elevator. Then reinforce these actions with plant-infused formulas your skin will love.

Clarins' Body Fit Anti-Cellulite Expert contains 8 targeted plant extracts—including Organic Quince Leaf—that visibly firm, lift and streamline thighs, buttocks, and hips with unprecedented results. Body Shaping Cream—with a potent blend of Caffeine, Poppy, and Organic Quince extracts—targets stubborn fat on abdomen, hips, arms, and knees for a sleeker-looking silhouette.

Super Restorative Redefining Body Care—with Crowberry extract—visibly firms, tightens, and defines slackened skin on the tummy and waistline, and is a body beauty essential for women 50+. Soothe body and mind with Tonic Body Treatment Oil to visibly firm, tone, and improve skin's elasticity, or opt for Contour Body Treatment Oil to fight sponginess. Both are formulated with aromatic, 100% plant extracts for an ooh-aah spa experience.
SEE MORE SEE LESS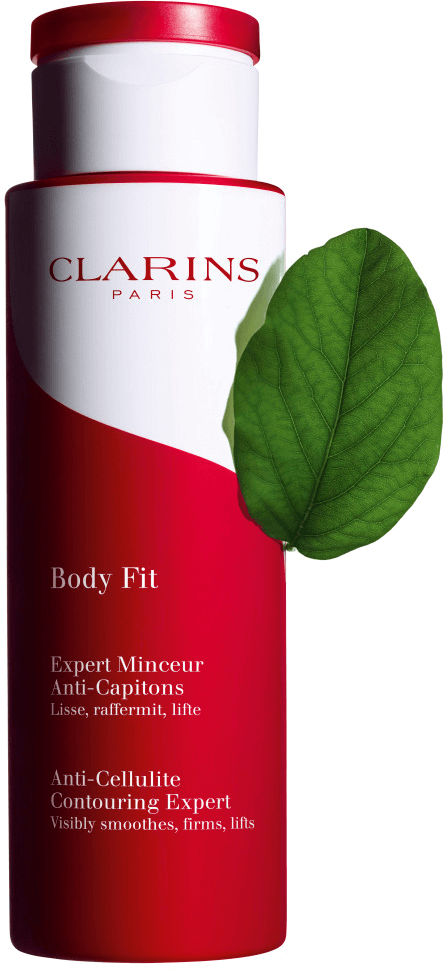 Organic Quince leaf
Body Fit
VISIBLY:
Smooth
Tone
Sculpt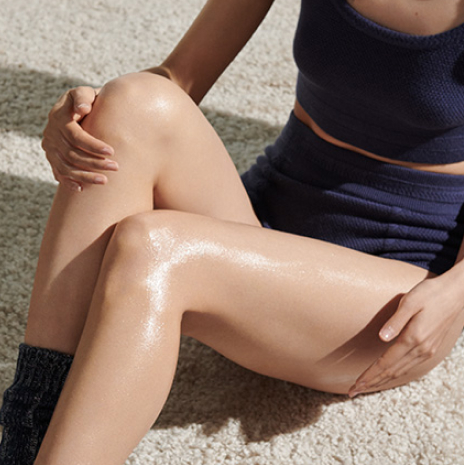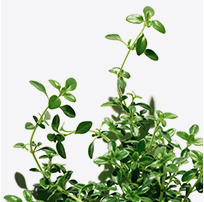 Lemon Thyme
Visible Firming Effect
Have a firm advantage
Firm skin is the key to a toned, youthful-looking body—but weight fluctuations from dieting, pregnancy, or hormonal changes can compromise the skin's elasticity, causing it to become slackened. Clarins' NEW Body Firming Extra-Firming Cream and Gel is your new body firming duo for toned, revitalized skin. Powered by Organic Petasites and Organic Mitracarpus extracts, these targeted formulas visibly firm, tighten, and smooth body skin while providing 48 hours* of non-stop hydration. Next, support your breasts with Bust Beauty Firming Lotion, formulated with Vu Sua, Centella Asiatica, and Bocoa—a trio of plant extracts that delivers a toning and tightening effect. Bust Beauty Extra-Lift Gel, formulated with Vu Sua extract and Oat Sugars, visibly tightens skin from the base of breasts to chin for a shapelier-looking silhouette.
*Instrumental test on a panel of 30 women on a test lasting a total of 48 hours.
SEE MORE SEE LESS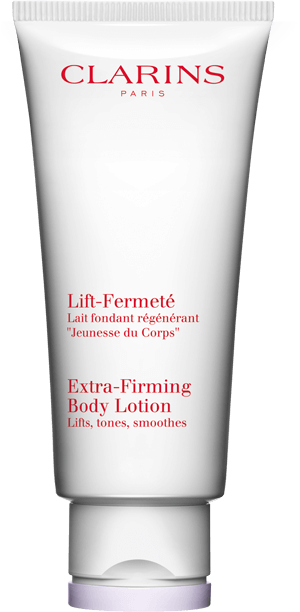 Body Firming Extra-Firming Cream
VISIBLY:
Smooth
Firm
Lift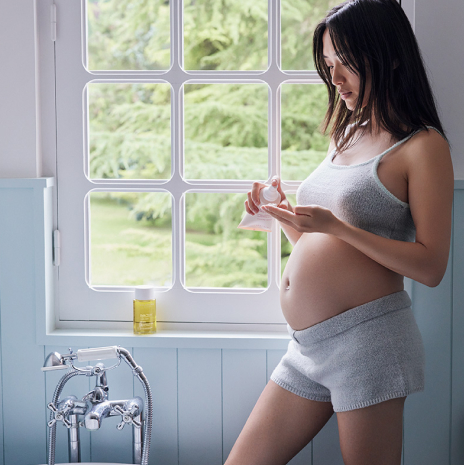 Stretch marks
Bounce back beautifully
Weight fluctuations, pregnancy, hormonal changes, and age all create favorable conditions for the formation of stretch marks. Don't take it sitting down! Nourish, hydrate, and smooth vulnerable skin with Tonic Body Treatment Oil—formulated with Geranium, Rosemary, Mint extracts, and Hazelnut oil—a Clarins fan favorite that addresses the appearance of stretch marks. Add a few drops to Body Partner Stretch Mark Expert, a targeted cream—formulated with Clarins' proprietary PhytoStretchComplex of Centella Asiatica, and Organic Green Banana extracts—that promotes visible skin firmness and targets stretch marks, leaving skin satin-smooth and incredibly comfortable. Massage onto thighs, hips, stomach, and breasts with circular motions.
SEE MORE SEE LESS
Body Partner Stretch Mark Expert
VISIBLY:
Tone
Target Stretch Marks
Hydrate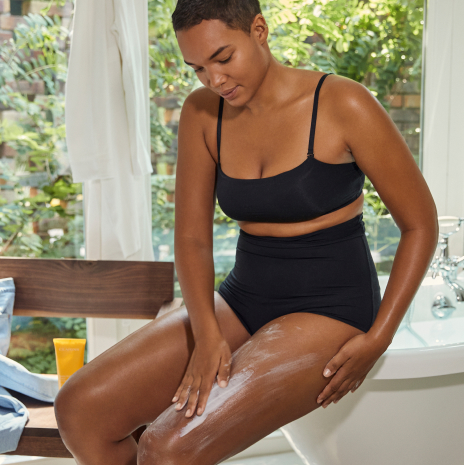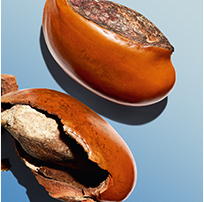 Shea butter
Moisturize
Hydration innovations
Moisturizing, from shoulders to toes, should be part of every woman's daily body care routine. Clarins' sensorial textures and tantalizing plant aromas soothe the senses while leaving skin soft and youthful-looking. Our Body-Smoothing Moisture Milk with Aloe Vera drenches skin in hydrating comfort for 48 hours.* Creamy Moisture-Rich Body Lotion, with ultra-nourishing Shea Butter, softens and intensely hydrates even very dry skin for long-lasting comfort. Tonic Moisturizing Balm with essential oils, Shea Butter and Aloe Vera, instantly nourishes, softens, and soothes dry skin. Apply it after using Tonic Bath & Shower Gel Concentrate for a sensational toning result. Top things off with Renew-Plus Body Serum—a concentrated anti-aging treatment that visibly firms, smoothes, and deeply hydrates to revive skin's youthful beauty.

*Clinical test - 10 volunteers - 48 hours.
SEE MORE SEE LESS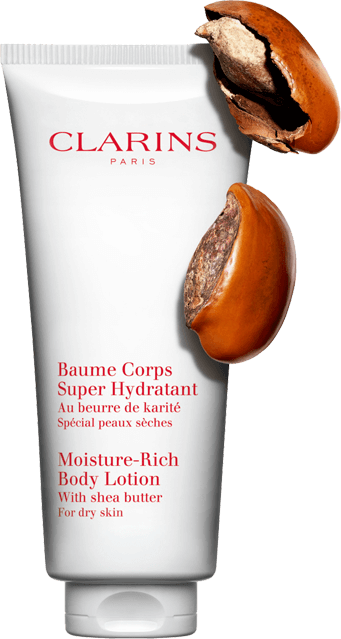 Shea butter
Moisture-Rich Body Lotion
VISIBLY:
Smooth
Tone
Hydrate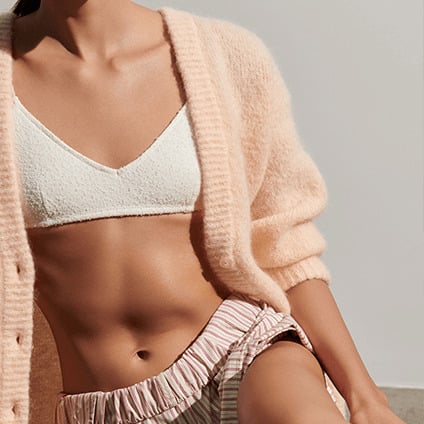 Exfoliate
Clear the way for radiant skin

Exfoliating your body once or twice a week polishes away dead, flaky surface cells and impurities—allowing fresh, radiant cells to surface. It also preps skin for the treatments to follow. Clarins' Exfoliating Body Scrub For Smooth Skin does all that with gently exfoliating Bamboo powder, while soothing, nourishing and softening the skin with Mimosa Tenuiflora and Shea Butter. Tonic Sugar Polisher combines the gentle exfoliating action of natural Sugar and Salt crystals with the toning benefits of Geranium, Mint, and Rosemary essential oils for skin that is sleek and silky-smooth.
SEE MORE SEE LESS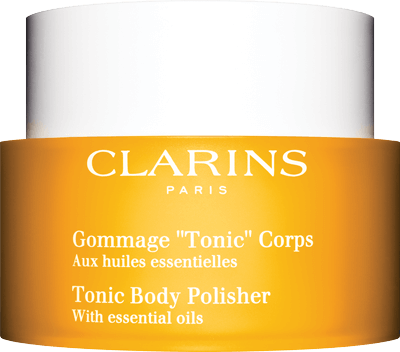 Tonic Body Polisher
VISIBLY:
Exfoliate
Tone
Hydrate
Firm, hydrated skin is as easy as one, two, three: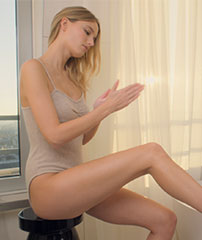 1
3 seconds
Warm product between palms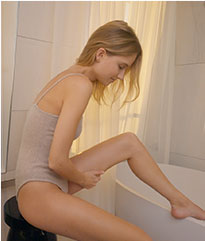 2
10 seconds
Apply to skin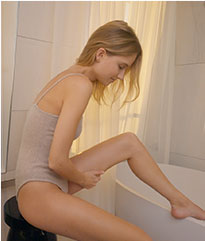 3
30 seconds
Smooth upwards
Any questions?
The Clarins Experts have all the answers.
How to achieve firm, smooth skin?
Clarins body firming treatments work even better when applied to clean, smooth skin that is free of dead cells—so scrub your body from shoulders to toes before applying them. The exfoliating power of Clarins formulas comes from their natural ingredients—like Bamboo powder, and natural Sea Salt and Sugar crystals. Beauty as nature intended.
Is it possible to firm and tone without losing weight?
Shedding those extra pounds is one thing; having a firm, toned body is something else entirely. Getting into great shape means eating right, exercising, and practicing a few targeted skincare techniques from The Clarins Experts. When it comes to getting good nutrition, enjoy every bite with recipes from Dr. Olivier Courtin-Clarins' cookbooks—must-reads for every woman who wants to be fit and beautiful…and feel satisfied too.
How to maintain a healthy weight?
Stress is often the result of a hectic lifestyle. Some of us lose weight during times of intense pressure. Others reach for sugary or fatty foods that pack on the pounds. Losing weight the healthy way may require going on a diet supervised by a physician. One of the best ways to control your weight is to eat only when you are hungry, cut down your portions, and make conscious choices to fill your plate with fruits, vegetables, and lean proteins. Meditation is a great way to reduce stress. No more yo-yo dieting for you. Set a goal, find your ideal weight loss plan, and make permanent lifestyle changes to maintain your results.
How to choose the perfect body care formulas?
Luckily, Clarins has targeted formulas for every body beauty concern: cellulite, stubborn fat, stretch marks, bust support, toning, firming, and exfoliating. Enjoy an online Clarins Body Beauty Consultation for your personalized product recommendations. For professional results, visit our online Beauty School to master the same Application Methods we use in the Clarins Spas.
What's the best recipe for a toned, youthful-looking body?
For more than 65 years, Clarins has been looking to nature for powerful active plant ingredients that visibly firm, tone, exfoliate, and fight stretch marks and cellulite. For example, the toning properties of Poppy and Quince extracts inspired Clarins Research to create Body Shaping Cream—a formula that zeroes in on stubborn fat on the abdomen, hips, arms, and knees. In addition to using our targeted treatments, eat right, exercise every day, and take care of your skin morning and night—the perfect recipe for a creating and maintaining a beautiful, youthful-looking, radiant body at any age.
What are some tips for staying trim and slender?
While it may seem counterintuitive, don't skip meals. Doing so can slow the body's metabolism so it burns fewer calories, making it more difficult to lose weight. It can also cause fatigue and irritability. Drinking 8 glasses of water a day flushes out toxins and boosts the metabolism. Choose nutritious foods that will keep you satisfied throughout the day, and try not to snack in-between meals. Eat in a calm setting, walk every day, and find time to exercise. Light meals and less strenuous workouts, like walking and paddle boarding, are great for firming up your body and improving your mood. Follow these healthy habits to flaunt a sleek, show-off shape all year long.
Why is it important to moisturize your body?
The skin on your body has fewer oil glands than the skin on your face, making it susceptible to dryness, chapping, rough patches on elbows, feet and knees, and the formation of fine lines and creases. In creating our body moisturizers, Clarins Research looked to nature for soothing, smoothing, skin-loving plant ingredients—including Aloe Vera, Shea Butter and essentials oils—with all of the nourishing goodness to keep your skin in soft, supple, comfortable condition. Clarins moisturizers are formulated as lotions, creams, balms, and oils—so every woman can find a replenishing texture that delivers a luxurious sensory experience. For best results, apply Clarins body treatments after shower or bath to lock in moisture and bring comfort and well-being to your day.

Your Beauty Consultation
Complement your body contouring routine with
personalized facial skincare recommendations.